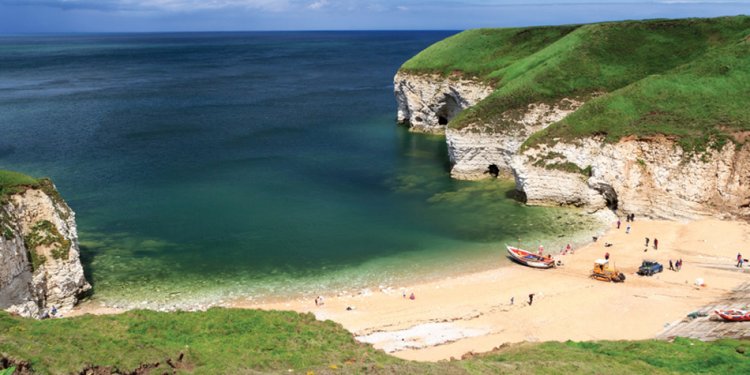 Tourist attractions Sleights North Yorkshire
Q. What links Dracula, Captain Cook, Easter Sunday, fossils, jet jewellery and 199 steps?
The 199 steps (or Caedmon's Trod) lead from the harbour up to Whitby Abbey, the ruins of which stand sufficiently tall to act as a prominent landmark for sailors. St Hilda was the first abbess of the original Abbey (which was built in 657).
Find accommodation in this area
At the Synod of Whitby in 664 the method of calculating Easter in the Roman church was devised. After a Viking attack the Abbey fell into disuse but a new one was built on the site in 1220, until that too was partially destroyed during the dissolution of the monasteries.
Later the Abbey was to act as inspiration for Bram Stoker's Dracula.
Captain James Cook started his maritime career at Whitby, working on colliers transporting coal along the English coast, and would undoubtedly have welcomed the sight of the Abbey after days at sea.
Jet is the black, fossilised remains of decayed wood, from trees that died millions of years ago. Jet is found in the cliffs in and near to Whitby, and these were extensively mined in the 19th century when wearing jewellery made of jet was made very fashionable by Queen Victoria, in mourning for Prince Albert. Whilst mining for jet and alum (a mineral which used to be used in the wool-dying process) many fossils were discovered in the cliffs, including pterodactyls and ammonites. Some of the fossils can be seen in the Whitby Museum.
Whitby is still a fishing port, as well being a first class tourist attraction - to many people it is the British Seaside at its best, with long sandy beaches, excellent fish and chip shops (Rick Stein suggests that one of them is the best in Britain), lots of bijou shops, a fish market, and plenty of things to see and do, including taking a trip on a replica of the ship that Capt Cook sailed in.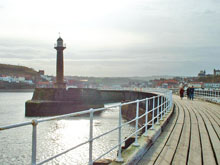 Things to do in Whitby:
Whitby Harbour
Dracula Museum
Whitby Regatta
The Bark Endeavour
Sandsend
Sleights
Staithes
Langbourne Road
Whitby
Share this article
Related Posts