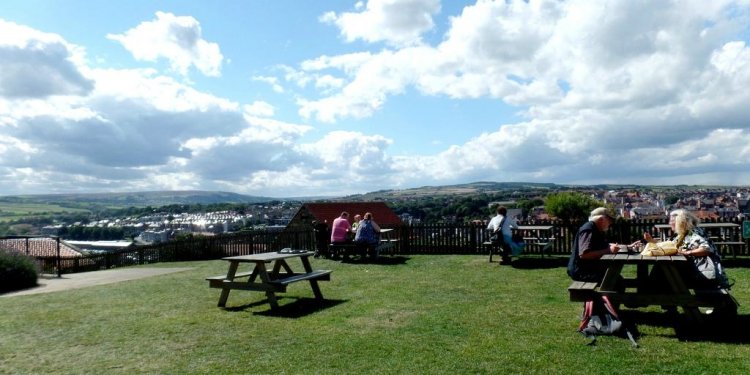 Top Hotels in Sleights UK
We moved to Whitby twenty five years ago from London, as we were looking for the "Better life"..and found it!
We opened The Stonehouse Emporium sixteen years ago, selling everything from Georgian fireplaces, grand pianos, Art Deco lighting and mirrors, to vintage clothing and accessories, and a huge range of vintage magazines, from the 1920s - 1980s.
Our guests receive 10% discount when they shop with us.
Whitby has been a fabulous place for our daughter to grow up, and she moved to London to study sculpture at Art School, just like I did when I was her age..small world!She is back temporaril, in between exhibition of her work, to run our Creperie in the basement with her partner, - it serves the best coffee in Whitby, and you do not even have to leave the building to get it!
We treat people as we like to be treated when we are travelling, -well and with as much local knowledge as possible.We can book restaurants, pamper sessions, arrange mechanics for car problems, visits to local sites of interest..anything to make your stay with us memorable.
My background is in fashion/interior design, and my partner is a musician/photographer, so we have a wide range of interests, and are quite imaginative when it comes to making suggestions for great days out.
We have made good friends with people who have come to stay with us, and some of our guests feel that they have a "home away from home" in Whitby, - they arrive as guests and leave as friends.
It wasn't until one of our prospective guests asked if we provided soap in our bnb, that I realised that what we do and how we do it, is a complete mystery, if you haven't stayed with us before.
Charles and I are very experienced world travellers and have had enough bad breakfasts at so called 5-Star hotels to know how to do it properly!
Our self catering apartment above the shop, have Welcome Packs with red or white wine, plus we supply everything we think that you may need to make your stay splendid.
For our Bed and Breakfast accommodation in Sleights, we use bacon and sausages from Jacksons of Ruswarp ( a fabulous local butcher about five minutes away)free range eggs, real Heinz baked beans, good quality chestnut mushrooms, lovely tomatoes etc for our Full English. The jams and marmalades are top quality, and we only use English butter.
For people with a lesser appetite, we offer porridge, Fruits of the Forest compote and Greek yoghurt, croissants, and any combination of the Full English with scrambled eggs.The cereals are all proper brands, not just sawdust in the bottom of the box! We cater for vegetarians, and vegans, and if you have special dietary requirements, we can generally offer something to fit the bill.
We ran a successful Creperie in Whitby for six years, and if booked ahead, I can offer crepes for breakfast with an assorted of fillings.
That's the food covered.
Our rental accommodation is the West wing of the house, which is separate.There is a mezzanine area overlooking Woodlands for having breakfast, which also has a kettle and tea making facilities for use over night. The large bedroom has two vintage European sized single beds, with custom made mattresses, that are soooo comfortable.The bedroom overlooks the garden, and there is a huge bookcase with a selection of really interesting literature.
When the weather permits, I serve breakfast in the garden, on the terrace, where you can watch the steam train go by, and Herons flying down the river.
Our tv has Free Sat and there is free WiFi, if you need to be in touch with the outside world.
Charles recreated an Art Deco bathroom, which has original Royal Doulton fittings, and a properly sized bath, with shower over.
Yes we supply soap, good quality shampoo and conditioner, bubble bath etc, and the towels are nice and fluffy.
Our guests can walk in the garden, or down by the river, play Badminton on the lawn, play with the cats (of which there are four)and just relax as we have a fantastic view over the beautiful Esk Valley.
We have contacts in all the local bars and restaurants, and can make suggestions and arrange bookings for you.
Share this article
Related Posts